Jamie Zimron – Training Across Borders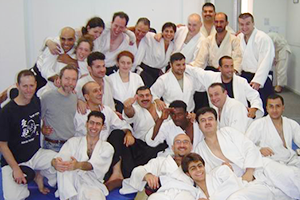 Thank you to Jamie Zimron, 5th degree black belt Aikido Instructor, creator of the Aiki Way and co-founder of the Middle East Aikido Project, for a great conversation about Aiki Extensions' Training Across Borders aikido seminar happening this coming October in Loutraki, Greece.
Training Across Borders 2015 will bring together aikido practitioners from conflict regions around the world to practice aikido and to replace barriers built by years of fear, hatred, and disappointment with foundations for peace, trust, and friendship.
Support Training Across Borders 2015 by making a tax-deductible donation to the Crowdrise Campaign.
Here's the recording: 
Mind and Body in Motion airs every 1st & 3rd Tuesday from 4 to 4:30 pm Mountain Time on kzkoradio.com