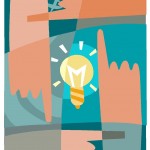 Aikido is the art of leading.  Working with the aikido model and hands-on exercises from the art, Leadership Arts explores and develops the foundations of leadership.
Participants learn how to communicate effectively; how to develop the best in one's team; how to deal with conflict; how to optimize creative problem solving; how to perform with excellence under pressure.
Leadership Arts teaches how to develop the best in oneself and in others.