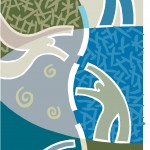 Aikido means "the way of harmonizing with energy."  The fluid circular movements of the defensive martial art work with the attacker's energy and timing.
The business programs draw on the Aikido model of working with rather than against forces in an environment.  The Aikido model teaches how to tap constructive power in leadership to create unity of purpose and to resolve conflict.
The precision timing and movement of the Aikido arts require a calm mind and clear mental focus. The aspect of the training that develops that ability is referred to in Japanese as Shin Shin Toitsu – the unity of heart, mind, and body.  These simple yet powerful exercises provide the training foundation to develop performance and communication excellence under pressure.