Kaiut Yoga – Yoga for Everyone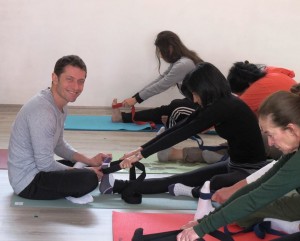 Thank you to Fransisco Kaiut, creator of Kaiut Yoga, for a fascinating conversation about the practice. Kaiut Yoga brings together Francisco's insight and experience  from multiple mind/body practices including yoga, polarity therapy, cranial sacral, and chiropractic work to create "Yoga for Everybody."
Originally from Brazil, Fransisco is now bringing Kaiut Yoga to the U.S.  After a month of teaching in Boulder, Colorado he will be offering classes in Denver the last week of February. Click Here for more information.
Rather than creating classes that are pose-oriented, the Kaiut method consists of subtle movements developed through tested sequences that work towards easing the aging process.
In case you missed the show, here's the recording: 
Mind & Body in Motion with host Susan Chandler airs on internet radio station KZKOradio.com Tuesdays from 4 to 4:30 pm MT.