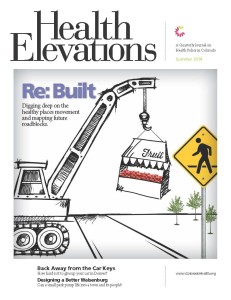 Thank you to Michael Booth, managing editor of Health Elevations – the quarterly journal of the Colorado Health Foundation, for an informative conversation about the movement to build healthy city environments that bring movement back into daily life.
Booth writes that "modern society has designed human movement out of daily life." The result? A growing number of Americans are overweight, out-of-shape and subsequently in poor health. The "healthy places" movement – a coalition of nonprofits, health leaders and governments – has begun to make changes in our built environments to promote health and well-being. To learn more about what's going on in Colorado Click Here.
In case you missed the show, here's the recording – 
Mind & Body in Motion with host Susan Chandler airs on internet radio station KZKOradio.com Tuesdays from 4 to 4:30 pm MT.