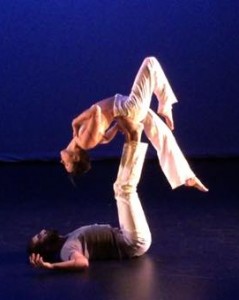 Thank you to Jen Cameron and Austin Goodman for a fascinating conversation about AcroYoga.  Jen and Austin are certified AcroYoga teachers and founders of Denver AcroYoga.
AcroYoga blends yoga, partner acrobatics, and the healing art of Thai massage. Through solo and partner practice the training develops strength, flexibility, and relaxation as well as  cultivates trust, playfulness, and community.
Click Here to watch an amazing video of Jen and Austin. For more information about upcoming classes and workshops check out their Schedule, and find them on Facebook at Flight Club.
In case you missed the show, here's the recording: 
Mind & Body in Motion with host Susan Chandler airs on internet radio station KZKOradio.com Tuesdays from 4 to 4:30 pm MT.