Parkour with Ryan "Demon" Ford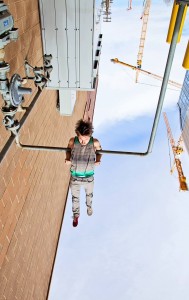 Thank you to Ryan "Demon" Ford, internationally renowned Parkour athlete and coach and founder of the Parkour gym APEX Movement, for a fascinating conversation about Parkour.
In Parkour, practitioners called "traceurs" find ways of moving in the environment with and around natural obstacles. Apex Movement "inspire[s] people to become more physically active through play, and [helps] people attain their fitness goals through natural exercise. There is something for everyone along at least one of these three paths to fitness; Athletics, Play, and Exercise."
Watch Ryan's TEDx Mile High talk about Parkour and the Art of Play. To see Ryan's video tutorials go to Demon Drills, and click here to read about Ryan's experience training with the top traceurs in France for an ESPN documentary.
In case you missed the show, here's the recording – 
Mind & Body in Motion with host Susan Chandler airs on internet radio station KZKOradio.com Tuesdays from 4 to 4:30 pm MT.