Music Therapy and the Brain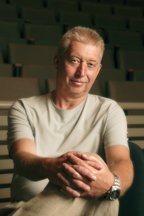 Thank you to Dr. Michael Thaut, Scientific Director of the Center for Biomedical Research in Music at Colorado State University, for a fascinating conversation about music and the brain.
Dr. Thaut's internationally recognized research focuses on brain function in music and the therapeutic applications of neurologic music therapy for both cognitive and motor function rehabilitation.
In case you missed the show, here's the recording – 
Mind & Body in Motion with host Susan Chandler airs on internet radio station KZKOradio.com Tuesdays from 4 to 4:30 pm MT.