Original Mind: Uncovering Your Natural Brilliance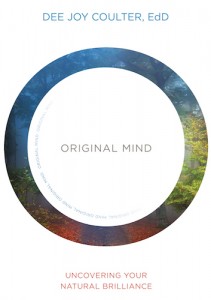 Thank you to Dee Joy Coulter for an engaging conversation about her new new book Original Mind: Uncovering Your Natural Brilliance.
Dee Joy Coulter, a nationally recognized neuroscience educator, holds a master's degree in special education and a doctorate in neurological studies and holistic education.  She worked for many years in special education as both a teacher and program director, and served on the faculty of Naropa University for 20 years. Dee has spent the last half century working with educators, academic institutions, and students of all ages exploring how to tap the mind's great depth and joy.  For more information check out Dee's website.
In case you missed the show, here's the recording: 
Mind & Body in Motion with host Susan Chandler airs on internet radio station KZKOradio.com Tuesdays from 4 to 4:30 pm MT.