Exercise & Educational Excellence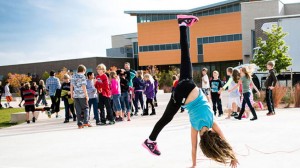 Thank you to Cyrus Weinberger, Principal of Red Hawk Elementary School in Erie, Colorado, for a dynamic and informative conversation about movement as an essential part of achieving academic excellence. The Red Hawk Elementary "Well-Way" includes exercise and movement, health and nutritional education, character development, and learning about protecting the environment.
Check out the video of Principal Weinberger speaking at Ted-X Crestmoor about how fit students do better in school and lead healthier, happier lives.
In case you missed the show, here's the recording – 
Mind & Body in Motion with host Susan Chandler airs on internet radio station KZKOradio.com Tuesdays from 4 to 4:30 pm MT.