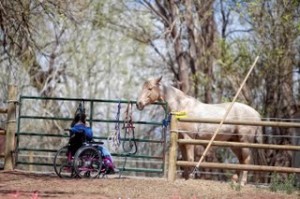 Thank you to Dr. Robin Gabriels and Tamara Merritt for a fascinating  conversation about the powerful impact of therapeutic horseback riding on a range of life challenges including autism spectrum disorder, veterans disabilities, at-risk youth, and Alzheimer's/dementia.
Dr. Robin Gabriels is an Associate Professor and autism researcher at the University of Colorado/Children's Hospital and Tamara Merritt is the Director of Special Programs from the therapeutic riding school Hearts & Horses. (click on the blue links for more information)
Check out these great videos from Hearts & Horses: Changing Leads for At-Risk Youth, Hearts, Horses and Heroes (the program for Veterans), and Riding in the Moment (program for seniors with Alzheimer's and dementia).
In case you missed the show, there's the recording:  We look forward to hearing about the next phase of Dr. Gabriels' research on therapeutic horseback riding and autism spectrum disorder that will be conducted at Heart & Horses in the coming year.
Mind & Body in Motion with host Susan Chandler airs on internet radio station KZKOradio.com Tuesdays from 4 to 4:30 pm MT.